episodes of Fred Allen Show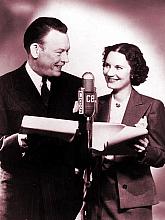 Fred Allen and his wife Portland Hoffa
Fred Allen invented an entirely new form of radio comedy that consisted of lampooning current events, making fun of his sponsors, and presenting skits that featured a cast of memorable recurring characters. Fred Allen was one of the all-time great American writers. Among his best-remembered lines were his two definitions of Hollywood: "Hollywood is a nice place--if you're an orange," and "You can take all the sincerity in Hollywood, put it in a flea's navel, and still have room left over for three caraway seeds and an agent's heart." Allen was an undisputed master of the ad-lib, often throwing out his scripts during a show. "We're a little late, folks," was often heard on Allen's show.
Allen's funniest and most popular sketch, was his regular visit to "Allen's Alley", where four characters eventually becoming regulars: Senator Claghorn, Mrs. Nussbaum, Titus Moody and Ajax Cassidy (sorry, Falstaff).
Allen premiered on radio with the Linit Show on October 23, 1932. Allen wrote much of the material for his shows himself; his perfectionism forced him to move from sponsor to sponsor. The Fred Allen Show, his last series, ran from 1942 to 1949 on NBC.
Click on a script title below to view it:
(Return to Library)