episodes of Quiet Please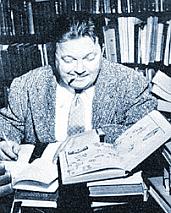 Quiet, Please is one of those brilliant shows that was ideal for radio... horror stories that demand to be listened to late at night, in the dark. Often very simple -- sometimes only two voices -- the shows build to their horrifying climaxes bit by bit. All the episodes are believed to be in the public domain.
Quiet, Please was first broadcast by on June 8, 1947 by the Mutual Broadcasting System, and its last episode ran on June 25, 1949, by ABC. A total of 106 shows were broadcast, with few repeats. The shows were written by the show's creator Wyllis Cooper, and Ernest Chappell was the everyman lead actor who didn't play a continuing character but appeared in every episode.
Wikipedia has an excellent article about the series.
A thoughtful fan site with all sorts of information and recordings from this series can be found at http://www.quietplease.org
Click on a script title below to view it:
(Return to Library)