episodes of Burns & Allen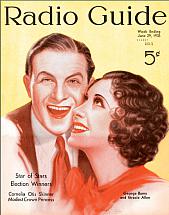 One of the true institutions of American comedy, George and Gracie conquered vaudeville, the movies, radio, and television in that order. Gracie was the classic scatterbrained blonde whom George loved even as he ran afoul of her verbal twists and crazy schemes. They're in fine form in an early Vitaphone talking picture short subject ("Lamb Chops") ; they made two dozen feature films in the 1930s and 40s; their television show won 6 Emmys; and then there was the radio show.
For 18 years -- first as a more-or-less traditional variety show, then as a situation comedy -- they tickled listeners' funnybones. Gracie's misunderstandings and George's misgivings set in motion sitcom traditions that still echo today.
Click on a script title below to view it:
(Return to Library)