episodes of Abbott and Costello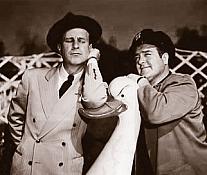 "Heyyyyy Abbott!" was the cry that promised mayhem on NBC and then ABC from 1942 through 1949. These former vaudevillians were big hits in the movies, in radio, and pioneered on early television as well. Their routine "Who's On First?" alone earns them immortality in the history of comedy.
A large collection of scanned scripts of "Abbot and Costello" broadcasts from 1942 through 1947 can be found through search the RJ Reynolds area of the https://www.industrydocumentslibrary.ucsf.edu/tobacco/ website. Over 150 scanned "A&C" episodes are available for download.
Click on a script title below to view it:
(Return to Library)