episodes of Captain Midnight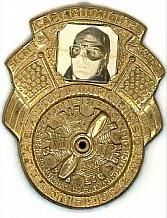 The 1942 PhotoMatic Decoder Where would Ovaltine be without Captain Midnight and the many secret decoder premiums that World War II-era boys and girls (but especially boys) anxiously sent in for? In 1939 a syndicated series, Captain Midnight and his Secret Squadron quickly moved to the Mutual network in 15 minute weekday episodes where it continued for nearly a decade. In the great tradition of secretive radio heroes, Midnight was the secret identity of a World War I flying ace, engaged in a never-ending battle against master criminal Ivan Shark and aided by curiously youthful companions.
Captain Midnight made the transition to television in the mid 1950s.
One review of Captain Midnight is found here.
Click on a script title below to view it:
(Return to Library)