readthru notes (a bit of a blog)
---
February 2019: Something new has been added!
A search capability, to be specific. A faithful reader encouraged us to finally add some searching capabilities to our online database, and so we have. Accessible from a link on the script library page, you can search a range of dates or look for a word from a title. We hope you find it useful!
---
May 2018: Caution: Site Updates in Progress
We add scripts to the site on a regular basis (OK, a semi-regular basis) but rarely do we try to update the website itself. Why fix what isn't broken? But after all these years, we do see that internet standards have moved on, and it is finally time to rebuild the internals of the site. Our new edition looks almost like the old one, but it has been shined up a bit. While we're completing the upgrade, you may notice a glotch here and there. Don't these will be corrected soon, and then we'll get back to adding scripts - and perhaps even a new feature or two!
---
October 2012: Thinking about Christmas
Of course we think about Christmas in October -- doesn't everybody? (Don't believe me? go look at some of your local retailers and see if they don't have their first Christmas items on the shelves.)
We're specifically thinking about Christmas-themed radio shows...it's not all "Scrooge", ya 'know. We get asked -- what are some good holiday shows to perform? We've tagged some of the shows in our library that have holiday themes, and if you're looking for something seasonal, then
Check out our list
.
---
September 2011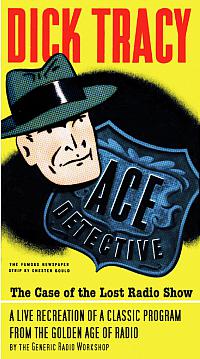 See the GRW September 18 in Arlington

Sunday, September 18 @ 3 PM: GRW radio performance in downtown Arlington Texas
Following our succesful performance in Cleburne Texas, the Generic Radio Workshop will perform live at the Arlington Museum of Art in downtown Arlington Texas. We'll recreat a "lost" episode from the old time radio series "Dick Tracy" to produce for a live audience in the traditional old time radio manner. *The Case of the Big Top Murders* aired April 6, 1946, and has not been heard again until now. The radio version of Dick Tracy was on the airwaves for more than 15 years, usually as a 15-minute serial, but for a short time in the mid-1940s , was transformed into a half-hour Saturday-night series sponsored by Tootsie Rolls.
Dick Tracy has had many incarnations, from the comic strip which made its debut 80 years ago (and is still running today) to numerous film and TV adaptations, and these will be part of this educational and entertaining presentation.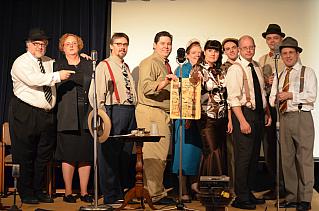 !
---
January 2010
Contact Form, Working Again.
I wondered why it was getting quiet around here...
Apparently our Contact Form bit the dust some time back- how long ago I'm not sure. If you've tried sending mail to us in recent weeks, it didn't get through. But this has been repaired, so we welcome your communications once again!
---
May 2009
Live Radio Performance in Dallas
Chances to "watch" radio being recreated in the authentic way are few and far between these days...but there's one opportunity in the Dallas/Fort Worth area this Saturday afternoon.
The Texas Radio Theatre Company invites you to a recording of: "The Time Machine" adapted by Richard Frohich, and an previously-lost episode of "Tales of Tomorrow" entitled "Syndrome Johnny" by Charles Dye,
The cast includes: Larry Groebe, Gary Layton, Tiffany Lonsdale-Hands, Ken Raney, Kelly Scott and Ric Spiegel
*The Time Machine* is the classic H.G. Wells story that takes you on a fantastic journey far into the future, while *Syndrome Johnny* is about the world ravaged by pandemic after pandemic. It's a recreation of a lost radio episode of the 50's Sci-Fi series **Tales of Tomorrow**.
The audio plays are performed and recorded on stage complete with sound effects and music. Tickets are pay what you can. $5 suggested.
Call (817) 275-4600 for information about the Arlington Museum of Art. AMA is located at 201 W Main St. Arlington, TX 76010
One performance only: Saturday May 30th at 2:00pm
For more information visit http://www.texasradiotheatre.com
---
January 2009
Disaster, Recovered
There are few sinking feelings to equal that when you discover with absolute certainty that the computer ate your data and you can't ever get it back no matter what. That feeling us hit US back in December when a combination of circumstances caused us to lose all the data on our website -- every page, every script, every link.
After much searching, we found a backup of the site dating to August...and then we started once again adding back the shows that had been added since then. Tonight we're finished, and the Workshop's library of scripts and transcripts again covers nearly 140 series and hundreds upon hundrds of individual episodes...and more to come.
You know the moral; of course you do. *Make backups of your work!* We're **much** more careful, now.
---
March 2008
"A Little Treasure Trove..."
That's what an alert reader pointed out to us the other day, and indeed it was....the "Those Were the Days" Radio Players West website contains a nifty dozen or more scripts that were new to us and which will be new to you, including series like "First Nighter" and "The Whistler" which haven't been previously represented.
http://www.radioplayerswest.org/ is their website, and it's exciting to see a group so active at recreating vintage radio performances. Chuck Schaden and friends in the Chicago area certainly have a a good thing going.
---
February 2008
Another year gone...
Where does the time go? If only we could transport back to those "days of yesteryear" where radio could be our proefssion and not just our hobby. Be that as it may, we're still doing our part to bring a bit of that OTR era back. The past year has seen the number of series with listed grow substantially -- now over 130 series. (And I remember when it was 130 SCRIPTS).
Not all of the scripts you see actually live on the Workshop's web server. Many are simply linked in from elsewhere, and sometimes these sites go away for various reasons. In recent weeks we've been looking for dead links and removing them or fixing them. We've got most of them eplaced now.
We've also been adding small summaries of key series where we can, and pictures, in an effort to provide a little more interest and value to the time you spend here. Let us know what other features might be valuable to you. And lastly, to answer again the question we get asked the most, "No we don't know if that script is copyrighted." It may be, or may not. And no, you don't have to ask US for permission to do something with it. That's why they're here...
---
January 2007
Happy New Year!
If all you ever read was the newsblog, you'd think the Generic Radio Workshop had been dormant for the last year. If you looked at our RSS feed, you'd know otherwise. But since many don't, we've adjusted our front page. We've made plenty of script updates and additions during 2006 (about 30!) -- we just never published announcements of same. But now our homepage will display the most recent four scripts added (or edited) to the website. Hope this makes it easier for you to note "what's new."
In 2006, the Workshop also produced 3 shows: "Lost Ladies of Radio" for the Texas Radio Theatre, a new edition of "Return with Us Now" for the Frisco Community Theater, and a recreation of the "The Shadow" for the Vintage Radio and Phonograph Society."
In February 2007 we'll produce a new radio compilation called "Love On The Air" for the Greater Lewisville Community Theater. Yes, it just for Valentine's Day and you can read more (and purchase tickets) HERE. We look forward to hearing from you there...
---
November 2005
More series, more episodes!
Just in time for Christmas, a most DIFFERENT holiday show has been reproduced from the original script: "Back for Christmas" as performed on "Suspense" in 1948. Well, not **exactly** as performed, since this is the *original* script, before cuts and additions, before the lead character's first name was changed, and before the episode became "Back for the Holidays."
Also new- episodes of "Escape", the premiere episode of "Dimension X", more very early NBC 'Bible Stories', 'Lights Out' and more.
---
August 18, 2005
New library updates...
Another handful of scripts which run the gamut: from a rare, early (1927!) NBC Biblical drama to the original broadcast of Escape's famous "Three Skeleton Key" . Along the way, there's a "Short Short Story", "Quiet Please", Shakespeare adapted to radio, and more. check the RSS feed for the full list!
---
April 20, 2005
NEARLY A DOZEN SCRIPTS NEW SCRIPTS POSTED
Life's conspired...to finally give me TIME to catch up on a backlog of scripts. Good news for readers!
And so, there are new episodes of Amos 'n' Andy, Suspense, Lights Out, and Screen Guild Players,
Plus we have some series making their first appearnace in the library: Screen Directors Playhouse, Crime Club, and Whitehall 1212.
Thanks to Robin and to Marie for the new contributions!
---
June 5, 2005
NEW SCRIPTS PUT OVER 100 SERIES ONLINE
Today's updates mean we've placed scripts from over one hundred old radio series online. That's not 100 shows or episodes -- that's 100 different series...as obscure as "Station KUKU" and "Natural Bridge Romances," and as beloved as "Suspense" and "Escape" (all of which had script updates today.)
If you counted actual online *scripts*, well, that numbers in the many hundreds, perhaps closer to a thousand if you add in all the links to the online tobaccodocuments archives.
I can see that soon we're going to enhance the library with better search and sort capabilities. OK. Here's the first step: we've created an RSS feed that updates whenever scripts get added or updated. If your browser supports it, you may see an RSS icon on the library page. If not, here's the feed: http://www.genericradio.com/rss-scripts.xml
It won't change often, but as we DO get new scripts online, you'll be the first to know.
---
January 26, 2005
BREAKING NEWS: HUNDREDS OF SCRIPTS LOCATED!
The *tobaccodocuments.org* website has yielded a treasure trove of additional radio series heretofore undiscovered. What I just found out after doing some research is that different tobacco companies' documents were archived with different methods. A different set of search terms than I had previously used pulled up thousands more OTR entries in their database. --- Many -- most -- of these were music show continuities, but over a dozen proved to be series worth your reading, including...
Abbott and Costello

Blondie

The Fat Man

My Friend Irma

Mystery In the Air

Screen Guild Players
These series alone list scripts for over 500 episodes online!
I also added a big handful of links to 1940s comics and their variety shows, including Jimmy Durante, Jack Carson, Al Pearce, Eddie Cantor -- even the extremely obscure Harry Savoy. Camel Cigarettes was one busy advertising sponsor!
When you look through our library and you see a show is lited but with "0 scripts" -- that really means there is an external script search link to tobaccodocuments.org. Check it out, and you'll never be at a loss for old time radio reading again!
Update 10/1/2017: The site mention has closed down - however, the scripts are also locateable here: https://www.industrydocumentslibrary.ucsf.edu/tobacco
---
December 23, 2004
!T'was the Night Before the Night Before Xmas...
...and we've added another half-dozen shows to the library.
Look for "The Night Before Christmas" under the Radio City Playhouse...
Two new "Easy Aces" scripts (and "Psychiatrist" reposted at it's full length!)...
Three new "Screen Guild Players" script links...
and a 2nd version of "A Christmas Carol" with Lionel Barrymore, this one for Campbell's Playhouse.
Check it out...and happy holidays to all of you!
Larry Groebe
Generic Radio Workshop
---
October 11, 2004
In response to the continuing stream of copyright questions we get, I've updated our
*copyright*
article with our latest clarified understanding (and some opinions) about copyright. If you want to know whether you can perform a script listedo n this site, read this article and follow the links. I'm sorry that we can't do research for you to confirm the status of any given property.
---
September 21, 2004
Three new scripts are online!
---
Thanks to Marie Sunny, look for new episodes of "Quiet Please" ("Inquest"), "Lights Out" ("Reunion After Death"), and a series called "Arthur Hopkins Presents," described as 'a classy anthology series that featured hour-long adaptations of Broadway plays.'
---
September 5, 2004
*Script formatting fixed!* *(we think)*
We were able to reproduce at least **some** of the script display problems, and in doing so to fix them.
Did we get them all? Only *you* can tell. let me know how the scripts are working now on YOUR computer's operating system and browser.
(followup-- I've had no further reports of problems, so I think it's licked.)
---
September 2, 2004
!!Browser Problems Hiding parts of Scripts?
A few people have reported having problems seeing the scripts correctly. For them, the speaking characters' names are not appeating on-screen.
This isn't supposed to happen, obviously.
It seems to be related to what browser you view the site with. While it works if you use Internet Explorer 5.5, or one of the Mozilla browsers, possibly the "SBC Yahoo!" browser doesn't display things right.
So far I'm unable to get a copy of this browser to test with, so I'm at a loss to solve this without more information. If *you* are unning into any problems with the screen display, drop us a line! We really do want this site to work well for you.
---
August 25, 2004
*Welcome to the completely redesigned Generic Radio Workshop site!*
We're pleased to be back in action, and we're pleased to have you back with us.
It took writing our own content management system (called "pagelets" -- ask us about it) and some summer intern help. to finally get the site overhauled. You'll note a whole bunch of new scripts online -- finally! -- and it's *much* easier to add them, so new ones should come online sooner.
This site now uses CSS pretty seriously (as you can see if you look at the source code of a page) and you should be using one of the mainstream browsers to see the scripts correctly. Internet Explorer 5.5 or greater, and Mozilla/Firefox are the main choices. If you have another browser, things may or may not look right...let us know!
---
August 23, 2004
I cleaned up the page shell formatting further, and am pleased with the results.
More imprtantly, I've managed to make a solid pass at all the shows listed here to look for the most blatant formatting errors. No doubt some remain -- there are a LOT of scripts here now.
Formatting is controleld by several PHP routines working together - a lot of regular expressions. Scripts stored by GRW are actually now stored as plain text, which means that (in a future edition) you'll be able to ask for the plain text so you perhaps can import it directly into a word processor.
Even right now, if you'll look at the HTML source on a script you'll notice it's easy to strip things out.
---
August 17, 2004
Slow work, but over the weekend we attached the new page shell to the content management system. And so it's coming along.